How to rent a diesel car
There are many reasons for renting a car. Sometimes you have to go on a long journey but you don't have the right car available. Other times you are forced to land at an airport far from the location to reach. In those cases, a high-performance car over long distances can be very useful, in addition to the distance of the journey there's also the discomfort of poor performance or driving comfort, not to mention fuel consumption...

In these circumstances a diesel car model can be a decisive solution: in addition to having a decidedly lower consumption than petrol engines, the performance of the vehicle itself is much more reliable and constant. This can mean going faster, longer and with greater comfort.

For this reason, on GoCarHire.co.uk, you can find the opportunity to filter the performed search to choose some specific characteristics, which include, among others, the possibility to hire a diesel car or van. Keep in mind, of course, that renting a diesel car will always tend to cost a little more than a petrol model, money you will save on gasoline.
How to find a diesel vehicle?
How to find out which diesel cars are available for your search? It's very simple: once you've done a search, you can use the right filters. In the left column, scrolling down, you will find the "Diesel" filter. Keep in mind that this filter will show up only if diesel cars are actually available.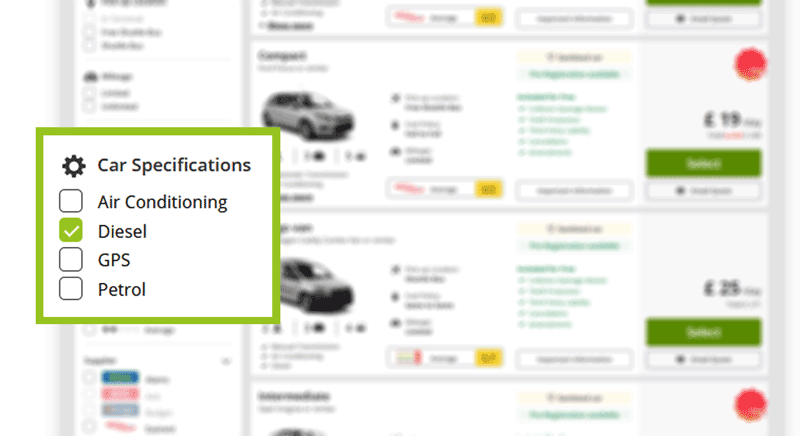 All you have to do is choose the car that best matches your requests and needs. Simple, isn't it? One last recommendation: always remember to consult the rental conditions every time you rent a car. Here we explain how to do it in a practical and fast way.